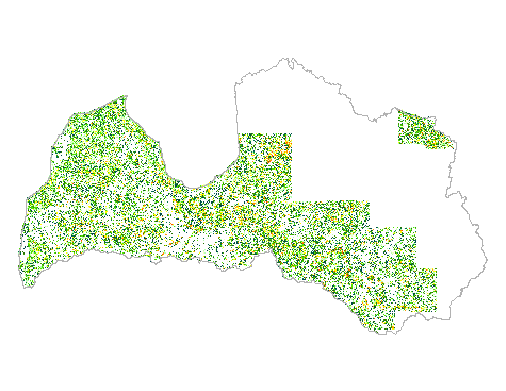 JSC Latvia's State Forests provide canopy height model WMS service. This service has been developed by the LVM GEO remote sensing experts using manually classified Latvian Geospatial Information Agency airborne laser scanning data. The digital terrain model service covers half of the territory of Latvia (more than 32 900 km2), it fully covers Kuzeme territory, most of Zemgale territory and parts of Vidzeme and Latgale.
Canopy height model represents merged canopy surface height and provides information about the average height of a forest stand rather than distinguishing seperate tree height. This model represents canopy's maximal average height with resolution of 2 meters at a certain location on the land surface. The color schema of the canopy height model correlates with this scale (m):

As soon as more airborne laser scanning data will be avaiable covering missing territories, we will add those to this service.
This service is available along other LVM GEO published WMS services:
https://lvmgeoserver.lvm.lv/geoserver/ows?service=wms&version=1.3.0&request=GetCapabilities&layer=public:CanopyHeightLKS
Service is prepared using: Digital terrain model source data © Latvian Geospatial Information Agency, 2016.